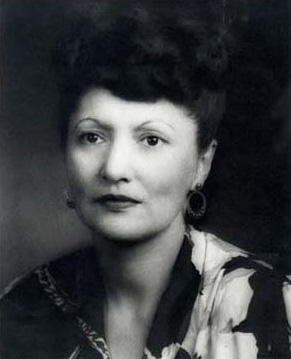 There are moments when the threads of time spread apart, and we are presented with the quickly fleeting opportunity to make a forever change in our lives.  Whether impacting our spiritual life, our health, our future family history, or living conditions, capturing these opportunities takes courage, wisdom, and grace.
Often, the course correction impacts us on a solely personal level.  Occasionally, we are granted with the gift of shifting the direction of generations to come.
Everyday our lives are impacted by ordinary people who recognized the need for change, seized upon a moment, and took a stand for a better world.  These world changers, most of whom we'll never know, have greatly impacted things we often take for granted: our safety, our comfort, our theology, our freedom, and our rights.  Once in awhile, we slow down the daily grind and honor these people.  For Alaskans, today is one of those days.  Elizabeth Peratrovich is one of those people.
Often referred to as the leader of the civil rights in Alaska, Peratrovich began fighting for the equal rights of Alaska Natives a decade before Martin Luther King gained fame for his movement.  As a Tlingit woman in a newly developing territory, Peratrovich was educated by her adoptive Presbyterian missionary parents, learning about the dignity and rights God bestowed on all peoples.
In her early thirties, Peratrovich recognized one of the moments when it was time to take a stand for the greater good.
In February of 1945, as President of the Alaska Native Sisterhood, Peratrovich was well aware of a proposal on the Alaska Senate floor for the Alaska Anti-Discrimination Act.  Introduced by Edward Anderson, the Swedish-born former Mayor of Nome, the bill passed the House with little debate by a vote of 19 to 5. When it came up in the Senate, a two-hour discussion followed where it was violently opposed by Allen Shattuck.  "Far from being brought closer together, which will result from this bill," he said, " the races should be kept further apart. Who are these people, barely out of savagery, who want to associate with us whites with 5,000 years of recorded civilization behind us?"
For a few moments, the bill was debated back and forth, before a call went out for questions from the gallery.  When the floor was opened, Peratrovich calmly set down her knitting, stood up, and asked to take the stand.
News accounts noted that she was, as always, well dressed and very composed. One commentator referred to her appearance as "extremely beautiful" and "regal" and the exact opposite of what Senator Whaley had complained about.
"I would not have expected," Elizabeth said in a quiet steady voice, "that I, who am barely out of savagery, would have to remind gentlemen with five thousand years of recorded civilization behind them of our Bill of Rights. When my husband and I came to Juneau and sought a home in a nice neighborhood where our children could play happily with our neighbors' children, we found such a house and had arranged to lease it. When the owners learned that we were Indians, they said 'no.' Would we be compelled to live in the slums?"
Her intelligence was obvious, her composure faultless. After giving a potent, neatly worded picture of discrimination against the Indians and other Native people, Mrs. Peratrovich said, "There are three kinds of persons who practice discrimination. First, the politician who wants to maintain an inferior minority group so that he can always promise them something. Second, the Mr. and Mrs. Jones who aren't quite sure of their social position and who are nice to you on one occasion and can't see you on others, depending on who they are with. Third, the great superman who believes in the superiority of the white race."
Discrimination suffered by herself and her friends, Peratrovich told the assembled body, "has forced the finest of our race to associate with white trash." There was an awesome silence in the packed hall, you could hear a pin drop.
Asked by Senator Shattuck if she thought the proposed bill would eliminate discrimination, Elizabeth Peratrovich queried in rebuttal, "Do your laws against larceny and even murder prevent those crimes? No law will eliminate crimes but at least you as legislators can assert to the world that you recognize the evil of the present situation and speak your intent to help us overcome discrimination."
When she finished, there was a wild burst of applause from the gallery and senate floor alike. There was tears, crying. Her plea could not have been more effective. Opposition that had appeared to speak with a strong voice was forced to a defensive whisper at the close of that senate hearing by a five foot five inch Tlingit woman.
The Senate passed the bill 11 to 5 on February 8, 1945. A new era in Alaska's racial relations had begun. The bill passed the Senate by an 11-5 margin on February 8, 1945 and was signed into law by Gov. Gruening on February 16, 1945. It was the first such document passed by any state or territory since the Civil War.  In 1989, February 16 was designated as Elizabeth Peratrovich Day.
May we all have the wisdom to recognize our moment, and the courage to take a stand.